Doggie Day Care:
Fortune Creek Kennels offers day care services for all dogs.
Day care is available from 8:00 A.M to 6:00 P.M, Monday through Saturday. For Sunday day care, please enquire directly.
Day care services are customized depending on the size, temperament, and age of your dog.

Whenever possible, we group daycare dogs into small play groups and allow them to socialize and play together outside in the large exercise yards or inside in the daycare pen.
Play groups are determined based on size, temperament and age. This method of grouping allows us to ensure that all dogs are playing nicely and not becoming overly stimulated or stressed.
Dogs who prefer to be exercised on their own are also welcome and will receive an equal amount of play time outside in the yard by themselves.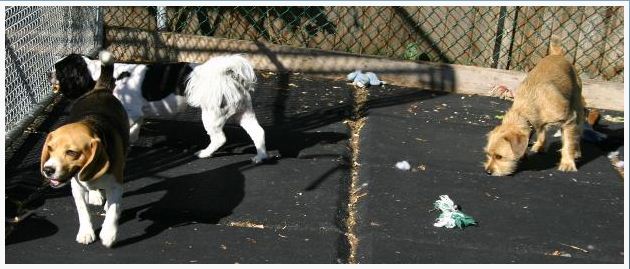 We accept any size and any energy level of dog for day care. However, please note that only pets of similar size, energy level and play style will be permitted to play together. Overly exuberant, aggressive, or excessively shy dogs will be exercised separately to ensure that all dogs have a safe and fun time.
Outdoor exercise time is weather dependent. On excessively hot or excessively cold days, the dogs are given time to play and socialize inside in the indoor daycare play yard. All daycare dogs have a private crate to nap in. Fresh water is available at all times.
Routine:

The day care follows a similar routine to the boarding kennel. Please note all times are approximate and subject to change.

8:00 A.M-10:00: Drop off and morning playtime.

10:00: Nap time

11:00-12:00: Second playtime, lunch (fed as required), and medications given, if needed

12:00 P.M-3:30: Nap time

3:30-6:00: Play time and pick up time