For Cats:
Fortune Creek Kennels offers cat boarding in a private cattery
Cattery amenities

· Quiet and separate from the dog boarding facility

· Large pens with separate sleeping compartments, so cats can get away from their litter boxes.


· Privacy curtains for shy or nervous cats

· Large windows to provide lots of natural light

· Plants and fish tank for a home-like atmosphere.

· Music and night lights.

· **New** Two story deluxe cat condo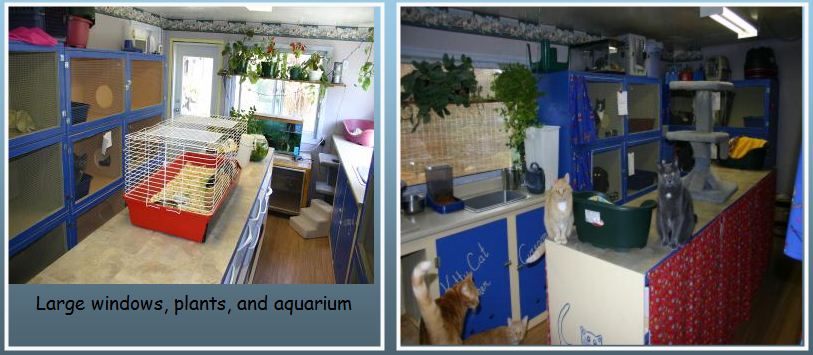 ·All diets and medications are maintained.
·Cats are given clean food bowls at each meal.
·Water dishes are changed every morning and
fresh water is available at all times.
·Litter boxes and pens are cleaned daily.
·All cats have an individual pen with two sides. One side is equipped with a litter box. The otherside has bedding for the cat to sleep on, as well as food and water dishes.
· To minimize stress and "tummy upset", we prefer that all cats come with their own food. We will happily maintain any special diet or feeding requirements. Should your cat run out of food, or if you forget to bring food, we offer "Cat Chow" as a kennel food at an additional charge each day.

· In order to ensure the security of all boarding clients, we do not allow boarding cats to roam at large in the cattery unsupervised. Cats are petted and played with daily during cage cleaning time and allowed time outside of their pen at that time.
·To ensure comfort, a maximum of two adult cats can board together in one pen. In the case of kittens, up to three kittens under the age of six months can be accommodated in one pen.
·You are encouraged to bring toys that your cat likes. If your cat likes to scratch, please let us know, and we will supply a scratching post.
New deluxe 2 story cat condo